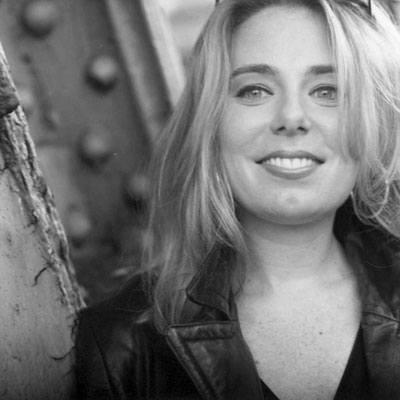 Johanna Grüssner: From Scandinavia to NYC... and back again
Chris Mosey, All About Jazz / 2010-11-30
Johanna Grüssner is a truly remarkable young woman. Aged 28, she has emerged as one of the best, most professional jazz singers in the Nordic Area after paying her dues in the toughest environment jazz has to offer; gigging around clubs in New York City, including Birdland, where she sang backed by a big band she put together herself.

During eight years in the United States, she went on to teach music at PS86, a public school in the Bronx, where she set up a 80-strong gospel choir. She then took 24 members of the choir, comprising mainly immigrant children, many with learning difficulties, back to her home in the Finnish Åland islands, in the hope that the unspoiled nature and relaxed lifestyle would give her charges a new perspective on life.

This extraordinary trip became the subject matter for a book by New York Times journalist Anemona Hartocollis, Seven Days Of Possibilities - One Teacher, 24 Kids and the Music That Changed Their Lives Forever (PublicAffairs). Hartocollis writes, "The experience transformed the school and the lives of everyone in it - the children, the teachers, the principal."

Sheldon Benardo, tough, authoritarian principal of PS86, who had clashed with Grüssner several times over her somewhat casual approach to teaching, went with the choir to Åland. At a farewell ceremony, seemingly transformed, he described her as "a very very special individual" then added, "We have been very lucky to know her."

So that's the light side of Johanna Grüssner's life. The one in which she gets all manner of things done, inspires others and makes a difference. The dark side is the personal cross that she shoulders and which drives her to achieve as much as she can while she is still young. She suffers from muscular dystrophy and fully expects some time in the future to be confined to a wheelchair for the rest of her life.

Already the disease is a problem. Climbing stairs can be agony and getting into a car she has to clasp her hands under her knees and lift her legs, to use Hartocollis' description, "as if they belonged to a rag doll."

One of the reasons she chose to return to Scandinavia from the U.S. in 2001 was Sweden's highly developed free health care system. Since going to live in Stockholm with Magnus Danielsson, an investment consultant, the couple have married and have two children, Ruben, age five, and Peggy, three.

But despite the advent of domesticity, Grüssner's career as a jazz singer is burgeoning with the release in November 2010 of Come Rain Or Come Shine, her third album on the Swedish Prophone label. This was launched at a sell-out concert in Fasching, Stockholm's top modern jazz venue. Her two previous albums for the label were No More Blues and Lazy Afternoon, the latter recorded in New Orleans with American musicians.

Frank Sinatra, Ella Fitzgerald, Tony Bennett and Glenn Miller. She says, "In grade school I pictured myself as a blonde bombshell in a slinky gold lamé sheath, kissing the microphone while 18 horn players sat behind me in straight rows, ripping jazz licks." In the end she settled for singing Tamla Motown ditties with four friends at a school show and playing guitar in a short-lived rock band.

When she left school at 19 in 1993, she won a scholarship to Berklee College of Music in Boston. A reporter from Ålandstidning, the local newspaper, visited her there and recorded for posterity this charmingly naïve, very Scandinavian observation about American street beggars, "If you don't give them money they can be quite unfriendly."

At Berklee Grüssner lost her Muppet cook accent (the Åland islands, while falling under Finnish sovereignty, are Swedish speaking) and learned hundreds of American standards by heart. She also developed a love of Brazilian samba, in particular the songs of Antonio Carlos Jobim.

She would spend her summer holidays in Åland, on one of these taking American guitarist Miles Okazaki, with her. The two of them toured all the stone churches in the islands, giving concerts, playing mostly Swedish folk music. At one Grüssner performed a song about an Ålander who distills his own liquor. This was reported in the local press by a journalist who accused her of promoting alcohol in church. The controversy resulted in full houses for the rest of the tour.

While studying at Berklee she collaborated with Finnish jazz pianist and composer Mika Pohjola, who lives in New York. Pohjola produced and played on albums she has made for the Blue Music Group label of Finnish and Swedish traditional music and songs to illustrate Finnish author Tove Jansson's Moomintroll children's stories.

When she graduated from Berklee in 1996, Grüssner moved to New York and enrolled at the Manhattan School of Music, singing in the evenings in clubs in the West Village and Lower East Side. "This was a very happy part of my life," she says now, "I imagined I was living the life if a struggling freelance vocalist. I had no idea really what struggle is all about."